SUCCESSFUL DESIGN AND ERECTION OF THE WORLD'S LARGEST PRODUCTION LINE FOR KEFIR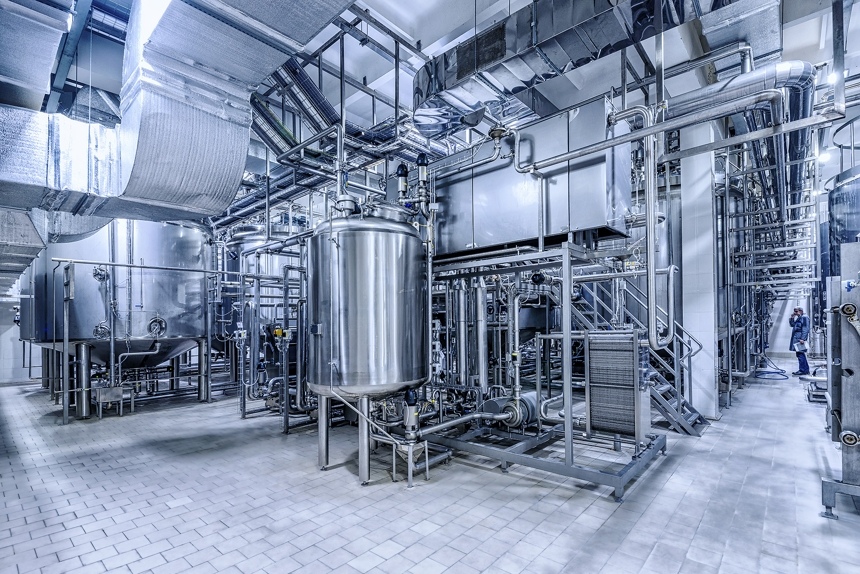 Kefir contains minerals, vitamins, essential amino acids as well as several varieties of probiotic bacteria, which is why it has a strong beneficial influence on nutrition and health. Sometimes it is even called a miracle drink. The word "kefir" itself means "good life".
The transformation of milk into kefir makes it superior because it is much easier to digest and absorb the rich nutrient contents. Different strains of bacteria make all the difference. Regularly drinking kefir will convince you of its positive effects.
General opinion is that mass industrial traditional production of kefir with kefir grains is impossible, that mass production of mother culture from kefir grains is an issue.
It isn't.
Brinox embraced the challenge and designed and erected the largest kefir production line worldwide, utilizing the three-stage fermentation method which permits production of kefir on a larger scale.
The line capacity today amounts for roughly a quarter of million liters of kefir per day. The other unique fact is that the same line can be used also for yoghurt production. Specific Brinox internal strict standards for cleaning and sterilization of media and air manipulation allow that production can easily be doubled or even tripled when using the same line also for yoghurt.
Production of traditional kefir requires a starter community of kefir grains which are added to the liquid one would like to ferment. Kefir is prepared by inoculating cow, goat, or sheep milk, the first of them being the most common choice. A kefir grain microbial community is kept in the diary under strictly controlled conditions, sometimes treated in an almost spiritual atmosphere to preserve a stable health of it and to achieve a constant quality of the end product for years.
The first step of a two-step fermentation procedure is the preparation of the so-called "mother culture". This process starts with the raw milk preparation as for any other fermented milk product. It generally means clarification, separation, standardization, deaeration and pasteurization of raw milk, utilizing a special thermal treatment, typical for kefir production.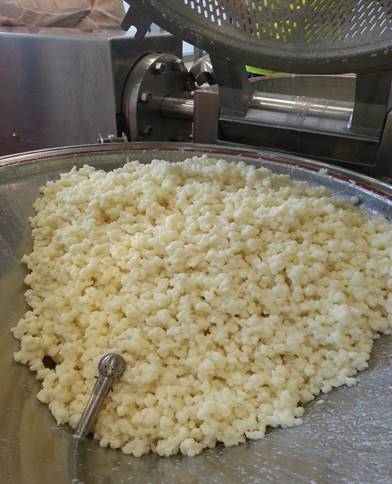 The thermally prepared milk is afterwards inoculated with the original kefir grain and the fermentation process of the "mother culture" lasts for about 12 to 16 hours. At the end of this stage kefir grains are removed by filtration and the resulting liquid "mother culture" is cooled down and usually kept in the buffer tank to be used later for fermentation of the "production culture".
It was a major engineering challenge of how to utilize a kefir grain filtration process, in order not to damage the grains. Brinox engineers have developed a unique solution, which is simple and enables an easy and controlled handling of the collected grains, to be used later for an almost unlimited number of future fermentations. Traditionally, in some dairies in Russia only women are allowed to work with kefir grains, having the emotional ability of gentle treatment, learnt when dealing with babies.
Focus is that the daily process for kefir production is exactly the same every day! Sterile conditions that are possible with Brinox process equipment allow shelf life of classical and very alive product to be prolonged to up to 30 days.
Russia has also special GOST standards for baby food. Brinox uses these specific standards together with own internal pharma experienced strict standards and precautions when manufacturing equipment for processing of baby kefir.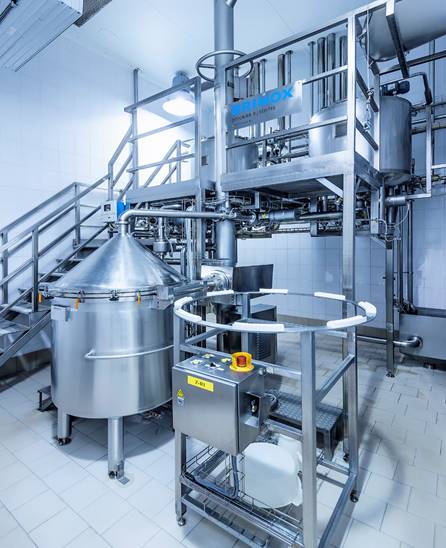 The next step of the process is virtually the same as the first one, the only major difference is the culture quantity. The "production culture" is cultivated by incubating milk with a defined concentration of "mother culture" under very similar conditions. This is called starter culture quantity scale up.
The "production culture" is cultivated in a set of fermenters, being connected and controlled via valve clusters run by PLC computers and monitored on SCADA level, where standards of equipment design and software structure are very close to pharmaceutical, a tendency which is obvious in modern dairy plants, especially if they also produce baby food. Being a supplier of the pharmaceutical industry for decades, Brinox is familiar with the strictest GMP requirements and can easily adapt to the utmost hygienic precautions.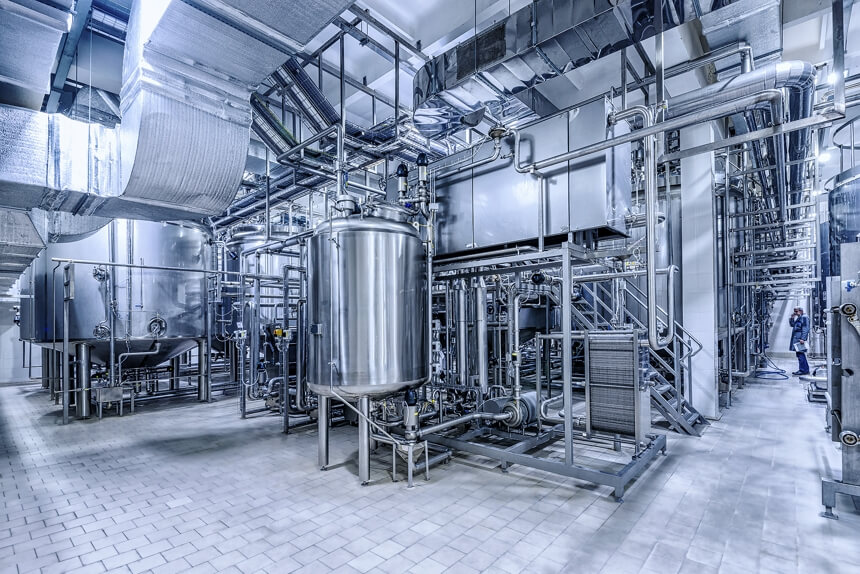 Final phase or the so-called "mass fermentation" is executed in series of 20 m3 fermenters, achieving the production capacity of almost 250.000 liters of kefir per day. Taking into account that the first stage of the fermentation process (from mother to production culture) is a bit oversized, the complete line can easily be adapted to a yield of 300.000 liters of kefir per day, or, in other words, approximately 2 million of kefir cups per day. This means that more than every tenth Moscow inhabitant can each day consume a cup of kefir coming not even from a single diary, but from a single production line made by Brinox.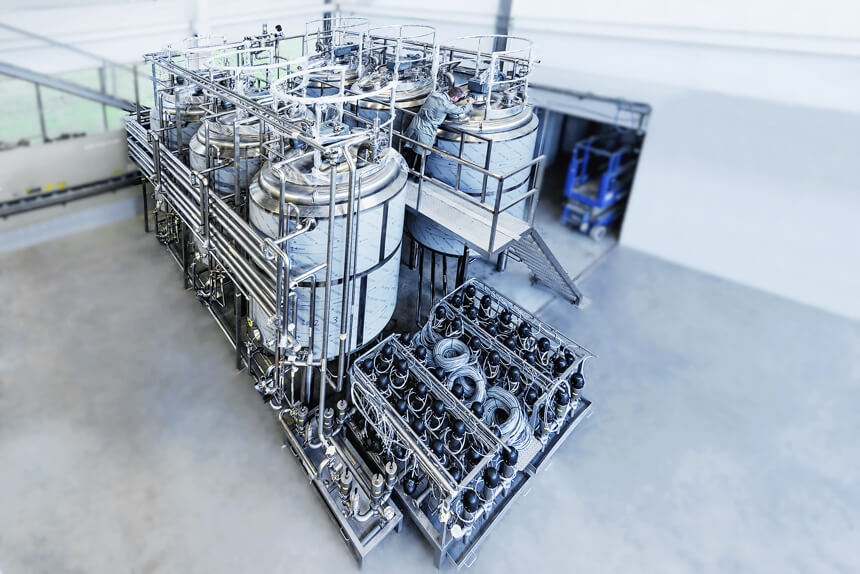 For having a more visualized experience of the process, please check the Kefir production animation:
Brinox as a company offers complete service (one-stop shop), from conceptual design, basic and detail design, risk assessment, fabrication of crucial elements, to assembly (including FAT), erection (SAT) and automation (OQ, PQ, operator training) of the whole system. This vertical integration ensures optimal project execution as well as customer friendly communication.
Brinox – Technology That Delivers.