Process systems
Food and beverage
Dairies
We understand dairy processing systems and build upon order:
process vessels,
milk receiving and storage systems,
temperature treatment systems,
milk treatment systems,
milk processing systems,
membrane filtration skids,
tube heat exchangers,
various types of CIP skids,
matierial handling systems,
unique systems and units for milk treatment and processing.
Beverage production
We are certified for manufacturing of various mixing vessels, piping installation and process equipment for batch or continuous beverage production:
various models of process vessels,
automation of distribution and dosing of media and components,
high-quality intensive mixing - equalising,
dissolving liquid and powder components and their transfer,
preparation of beverages,
transfer of final beverage to the filling line,
holistic solutions for syrup production plants.
Baby food production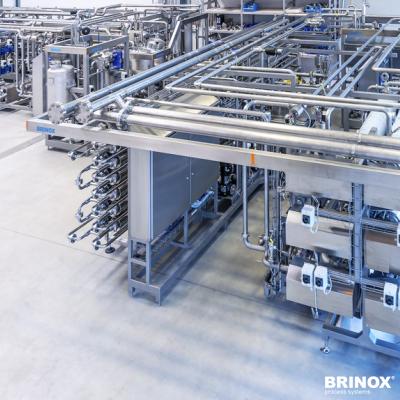 Several aspects should be considered when planning a new production line for baby food. When planning such a system, the most important focus is on safety and reliability. Meeting the strict requirements of international law is one of our main challenges.
Aromas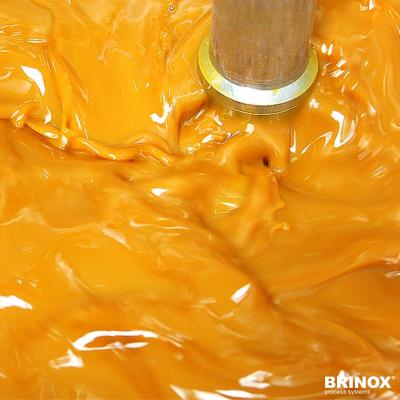 Aromas can be produced as liquids or powders, and there are several types of production. 
Our range offered:
mixing stations for aromas,
process vessels for storage of aromas,
aromas distribution and dosing systems,
vacuum extraction vessels,
solution preparation systems,
systems to produce powder aromas (drying towers),
distribution systems and connections to automatic CIP skids.
Material Handling System
Brinox integrates process equipment for transferring powder materials from one device to another (OEB 1–5) using original solutions.
References
Žito
Heineken pivovarna Laško
Sarajevksa pivara
Zott
Grupacija Imlek
Coca-Cola HBC
Pomurske mlekarne
Lactosan
Mlekarna Celeia
PepsiCo
Frutarom Etol
Meggle
Mlekarna Planika
Heineken pivovarna Union
Mlekarna Škofja Loka
Lactalis
Nektar Natura